How Important is Posture on Developing Spines?
How Important is Posture on Developing Spines?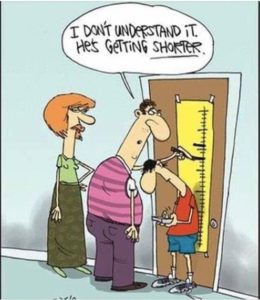 There are numerous studies coming out showing the effects of devices and increased use of technology on developing brains. The news isn't good. Some of the side effects include increases in depression and anxiety, addiction to dopamine (the "feel good" hormone), decreased attention span, decrease in interpersonal relationship development, and decreased motivation to take action. There are negative effects on the developing spine as well. Balance is key here – with all this flexion, chiropractic adjustments and extension exercises are so important to a developing spine! A normal spine will have an "S-shaped" curve when viewed from the side. Too much flexion without enough extension to balance it out creates a "C-shaped" spine (as you can see in the cartoon below). This leads to forward head carriage, degeneration, arthritis, and a host of other posture and health problems, including the stooped posture and "Dowager's hump" in the upper back. Remember: structure = function; poor structure = poor function. Since technology is here to stay, we have to adjust our lives to maintain good structure/posture. In our office, we do a postural analysis, range of motion analysis, and chiropractic analysis to determine the areas in the spine that are out of balance and correct these areas so proper posture is maintained. Call for appointment or just walk in during office hours!
Follow us on: