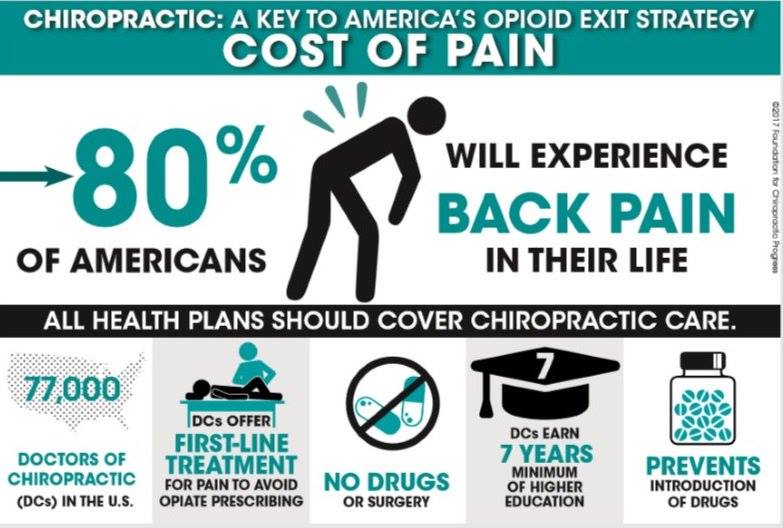 Chiropractic and the Opioid Epidemic
Chiropractic and the Opioid Epidemic
What Are Opioids
Doctors prescribe opioids (such as methadone, oxycodone and hydrocodone) to treat moderate-to-severe pain often following injury or surgery. Prescriptions for non-standard uses such as back pain and osteoarthritis have increased dramatically in recent years. Sales of prescription opioids have quadrupled since 1999. Nearly a quarter billion opioid prescriptions were written in 2013.
How We Got Here
From drugabuse.gov: "In the late 1990s, pharmaceutical companies reassured the medical community that patients would not become addicted to prescription opioid pain relievers, and healthcare providers began to prescribe them at greater rates. This subsequently led to widespread diversion and misuse of these medications before it became clear that these medications could indeed be highly addictive. Opioid overdose rates began to increase. In 2015, more than 33,000 Americans died as a result of an opioid overdose, including prescription opioids, heroin, and illicitly manufactured fentanyl, a powerful synthetic opioid."
Drug-Free Alternative to Pain
The Food and Drug Administration has proposed changes to the way it educates healthcare providers on treating pain, including the use of chiropractic care and other non-drug solutions. Just yesterday, President Trump signed legislation reaffirming the FDA's changes. The American College of Physicians announced earlier this year that it would recommend non-surgical approaches such as chiropractic as the first option to treat lower back pain.
Chiropractic treatment takes a broader approach to healthcare by rectifying the body's structural problems which restores healthy, natural flow to allow the body to heal itself naturally, thus eliminating the need for hard-core opioid treatments.
Over the last 20 years, we have helped thousands of patients in our office with pain in a drug-free, surgery-free manner. On the first visit, we do a thorough examination, x-rays (if needed), a review of our findings, and a spinal adjustment. If you're in pain, don't wait to take action. Call us today.
Follow us on: